Ever since the outbreak of COVID-19, healthcare organizations have been under unprecedented pressure to provide consistent medical service. The crisis is also stressing their communications infrastructures since timely, reliable, and secure communication has become even more critical for the medical sector. This also led the healthcare industry to adopt more flexible, reliable, and feature-packed communications solutions to adapt to uncertainty.
Yeastar PBX System comes with a strong presence in unified communications that empowers a mobilized workforce and elevates team collaboration while reducing overheads. During the pandemic, Yeastar's solution has been adopted in several healthcare institutions to empower high-quality, in-time patient care service with operational efficiency.
How Yeastar's solution benefits healthcare:
Stay connected by using desk phones, mobile phones, and desktops.
Enhance responsiveness with intelligent call handling and management.
Ensure continuity in the event of disasters or other emergencies.
Connect multiple healthcare locations as a unified system.
Record calls in either an always-on or on-demand manual mode.
Coordinate staff members both in-house and those working in the field.
Seamlessly integrated with ERP, OA, CRM, call center, and dispatching system.
Forge a collaborative team with UC capabilities, such as presence, instant messaging, etc.
Let's have a look at how Yeastar's solution helped the makeshift hospital in China and the national healthcare contact center in Tanzania better accommodate the surging patients and inquiries.
Yeastar facilitated the rapid deployment of its PBX System for the Public Health Center in Xi'an
To fight against the coronavirus pandemic, Xi'an, capital of northwest China's Shaanxi Province, has built an emergency hospital for COVID-19 patients in just 10 days. The emergency hospital has a floor space of 27,542 square meters and can house 500 beds, with a total of 666 staff from 15 hospitals stationed at the newly built public health facility.
In order to handle the potentially large number of patient inquiries during the pandemic, the following requirements for the public health center's phone systems must be met:
Complete the deployment, testing, and delivery of the phone system within 3 days, and put it into operation as quickly as possible.
The health center has 9 medical districts. All wards, nurses' stations, and pharmacies in the districts need to be unified under a communications system.
The system must be reliable to support at least 200 concurrent calls to ensure smooth communication between the health center and the outside.
Yeastar's solution: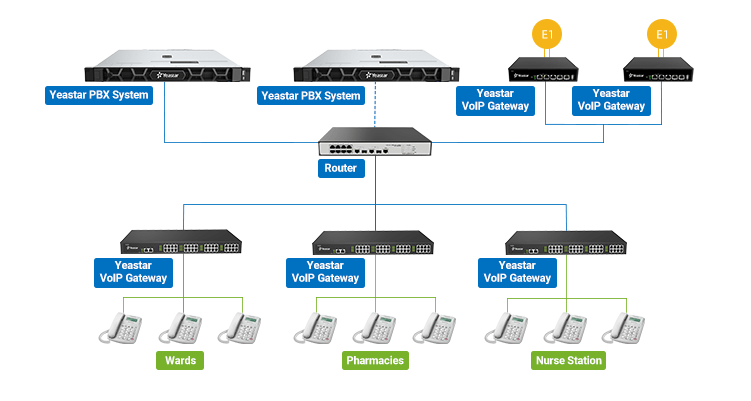 Upon learning the requirements, Yeastar has quickly designed and presented a solution to ensure rapid deployment. 2 Yeastar IP PBX were deployed, one being the primary server and the other secondary server. The analog extensions scattered in the wards, nurse stations, and pharmacies were connected to the IP PBX via Yeastar VoIP gateway.
Patient inquiries are greeted with customized prompts and directed to the right department in the shortest possible time.
The incoming calls would be distributed to available queue members which helps the health center stay responsive and efficient.
With Linkus Softphone, the staff can make and receive calls and initiate conferences from their mobile phones even when they are away from the desk.
In case of any emergency, the staff can use their desk phones to launch broadcast and make announcements quickly.
For the districts with internet connections available, there is no need to add additional telephone lines and IP phones can be plug-and-play.
Yeastar IP PBX provides API to support third-party integration such as ERP, CRM, and call center, to realize a more seamless and streamlined communication.
Tanzania's Ministry of Health upgraded to Yeastar PBX System to cope with inquiries
In response to the pandemic, the National COVID-19 Call Center, under a wing of Tanzania's Ministry of Health, Community, Development, Gender, Elderly and Children, needed to upgrade its traditional phone system to stay agile and responsive, preparing for any uncertainty. Given that, the call center required the new phone systems to:
Be capable of supporting up to 500 concurrent calls
Be able to record conversations, and the CDR can hold up to 9.99 million records
Have a hot standby feature to ensure there is no downtime
Allow the agents to respond promptly and reduce the response times
Yeastar's solution: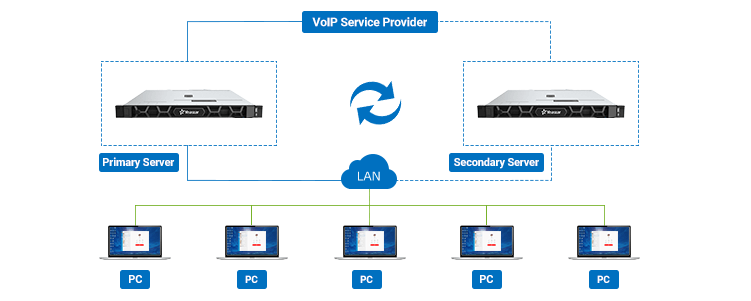 The Ministry of Health has opted for Yeastar PBX System and made the most of Linkus Softphone. Yeastar's certified partner, Nordic Computers Ltd helped deploy 2 Yeastar IP PBX at the national call center, one being the primary server and the other secondary server, and all the agents are now using Linkus Desktop Client for Windows to handle patient inquiries. Upon the implementation, the contact center is able to
Ensure normal operation and timely answers to patient inquiries even in light of the peaking call volume.
Simply and efficiently document telephone conversations with patients, play, and download the recordings if necessary.
Grant its agents a list of advanced features to reduce time spent on call handling, enhance responsiveness, and streamline the workflow.
Realize 24/7 uptime and make sure that every patient calling in can get a live person to assist in the inquiries and requests.
Optimize both medical and IT operations with a unified communications solution while keeping the costs down.
Receive solid technical support from Yeastar's local partner and Yeastar
To deliver high-quality, in-time patient care service along with operational efficiency is essential for healthcare institutions amid and after the coronavirus pandemic. Digital transformation is taking place in the medical sector and more hospitals and healthcare organizations are ready to make an upgrade to improve patient care. Learn more about Yeastar's VoIP & Unified Communications solution for Healthcare.